Sometimes a tale's ending is so ghastly, we might be tempted to change it in the retelling. And, in the process we might introduce a few improvements to the rest of the tale. Our written history is replete with such improvements, and the story of Sequoia and Kings Canyon National Parks hasn't escaped embellishment. This is a four-part series that explores a small portion of the embellished lore associated with the creation of Sequoia National Park, exposing little-known aspects perhaps suitable only for the Halloween season and those with sturdy digestive systems. In this first part of the series, we meet a ghastly end and reminisce about a legendary man whose life concluded just as the Park's began.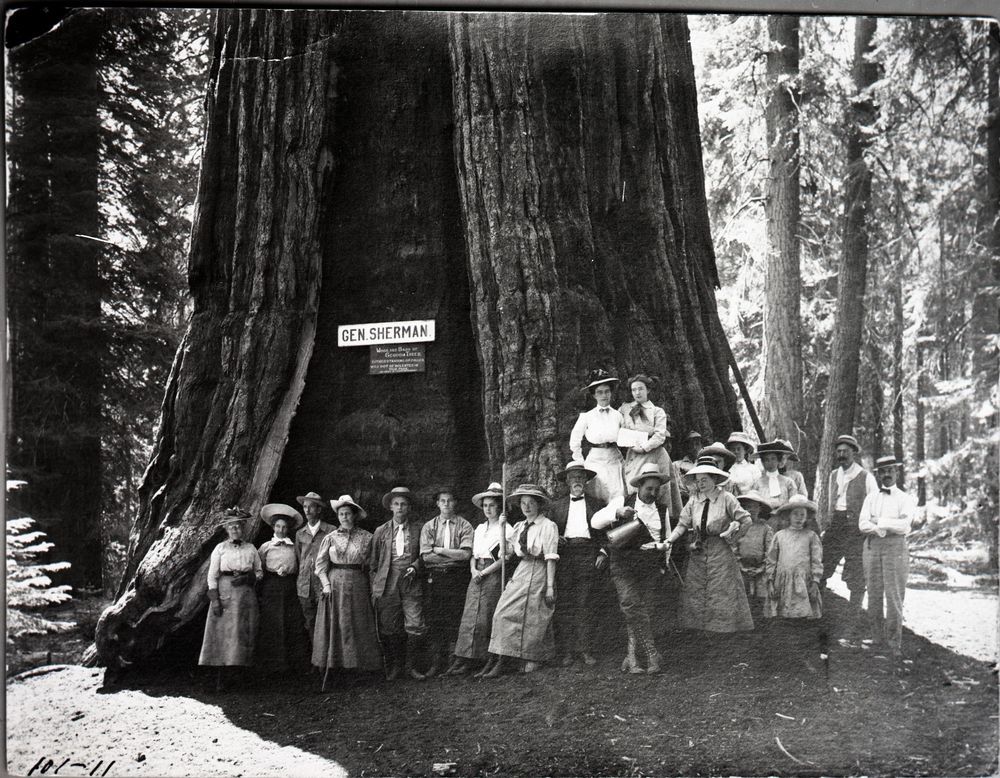 By Laile Di Silvestro, 1 October 2019, 3RNews
It was pitch black the night of May 23, 1903, and William Trauger was falling down a forty-foot mine shaft.
Will was properly drunk. Nevertheless, he was also forty-two years old and had a full life to flash before his eyes, assuming he sobered enough on the way down:
Bleary visions of the preceding hours at Phillip's Place, a fine drinking establishment that he and his partner Will Kenna frequented when they weren't seeking their fortunes in gold. A decade of mining in Mineral King for his friend Arthur Crowley. The time they caught some trout and carried them in coffee cans up to the lowest Mineral Lake. His home and apple orchard by the old wooden bridge at the base of the Mineral King Road.
And Wolverton.
The name Wolverton is indelibly associated with Sequoia National Park. There is Wolverton Meadow, of course, a favorite snow play area in the winter and a popular trailhead in all seasons. Visitors can also find Wolverton's name while exploring the history of General Sherman, the world's largest tree, and Hospital Rock, a granite shelter featuring Potwisha Monache pictographs. Although there are variations, Wolverton's story appears well known.
Popular accounts inform us that James Wolverton was a cowboy, fur trapper, and naturalist who arrived in the Sequoia area in 1874. He developed a close friendship with the area's first Euro-American settler Hale Dixon Tharp and built a small cabin in what is now known as Wolverton Meadow. He discovered the largest sequoia and named it the General Sherman on August 7, 1879. Wolverton had earned that honor by serving as lieutenant in the 9th Indiana Cavalry under General William Tecumseh Sherman in the Civil War.
According to local lore, Wolverton eventually homesteaded 160 acres on the Mineral King Road. There he raised stock and built a home at Wolverton Point, where the helipad is now located. In 1893, however, he was working for his friend Hale Tharp as a lookout near Hospital Rock when he fell ill. Members of the local Potwisha Monache tribe took care of him until Tharp found him. Tharp first transported Wolverton twenty-five miles downriver to his home near Horse Creek, and then back upriver to the Last Chance Ranch halfway up the Mineral King Road. There, Will Trauger's father and adoptive mother, Mary, lived. Mary, who was known as the angel of Mineral King, tended Wolverton until his death.
For unknown reasons, Wolverton had asked to be laid to rest by the wooden bridge that crossed the river near the base of the Mineral King Road. Captain "Galloping Jim" James Parker of the 4th Cavalry was acting superintendent of newly formed Sequoia and General Grant national parks. He attended the service and gave Wolverton the military burial honors befitting a lieutenant in General Sherman's army.
A wooden marker was placed at the head of Wolverton's grave. At some point over the next few decades it was consumed by a brush fire, and the location of his final resting place was forgotten. Only his name and his story remained.
As we will see, however, there are a few issues with this narrative. Foremost among them is that James Wolverton, as such, never existed.
As for Will Trauger, he hit the bottom of the forty-foot shaft after only 1.577 seconds. At the time of impact, he was moving at about 34.59 miles per hour.
And the saga continues: James Wolverton and the Ghastly End pt. 2