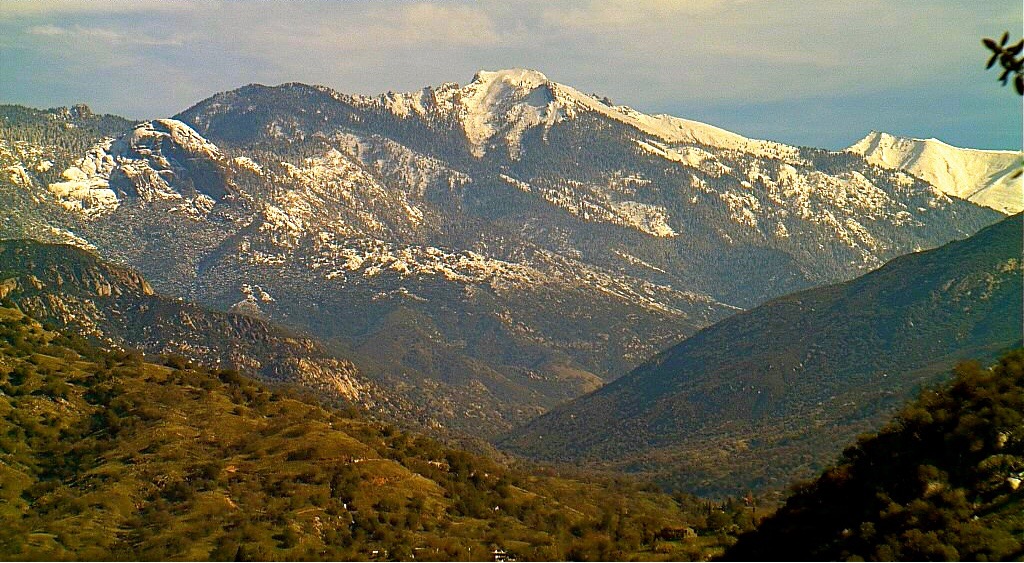 Like many popularly-accepted community histories, the Three Rivers narrative tends to exclude or marginalize the women, Native Americans, Chinese, and other disenfranchised groups who played important roles in the community. This excellent summary captures this narrative. How would you augment it?
By Sarah Elliott. Published 20 April 2019, 3RNews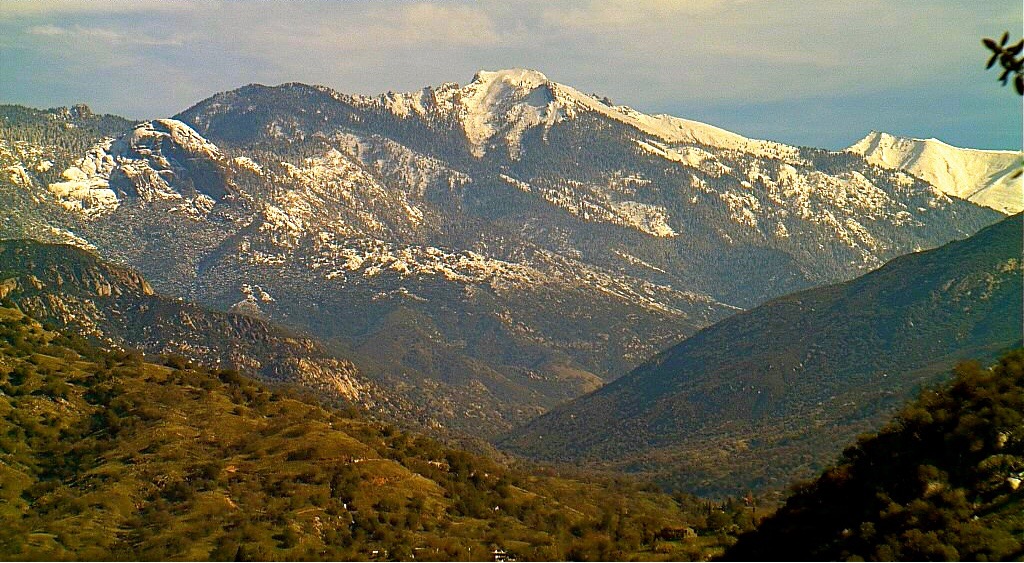 Early Settlement
When Tulare County was created in 1852, its boundaries encompassed 24,231 square miles from Mariposa County on the north to Los Angeles County on the south and westward to the Coast Range and east to the Utah Territory. Near the geographical center of these far-flung political boundaries was a remote river canyon inhabited by about 2,000 Indians and containing a wealth of natural beauty.
The first white settler arrived in 1856. That man, a cattleman named Hale Dixon Tharp (1829-1912), settled on Horse Creek near its confluence with the Kaweah River (today Lake Kaweah). During the 1860s, other stockmen and ranchers began to locate along the various forks of the Kaweah River. Much of the land being claimed in the area was under the provisions of the Homestead Act of 1862, which allowed a settler to occupy 160 acres, or 320 acres for a man and wife.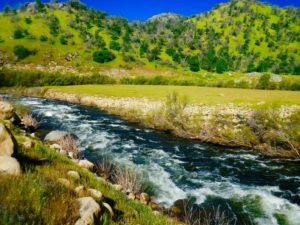 Early homesteads were located along the South, Middle, and North forks of the Kaweah River. Following the discovery of silver in 1872 and the subsequent creation of the Mineral King Mining District in 1873, a trail built by John Meadows (who later founded Silver City near Mineral King) was extended from the growing foothills community to link with a stock trail that led from Milk Ranch into the Mineral King valley. In 1879, the Meadows Trail was improved to accommodate prospectors and travelers who made their way up the East Fork. This wagon road became known as the Mineral King Road.
On Sept. 9, 1873, Cove School opened, the first school in what was to become known as Three Rivers. It was located in an area known as Cherokee Flat (present-day Cherokee Oaks subdivision). As small settlements grew along each fork of the Kaweah River, other schools were established. In 1927, local voters approved unification and the Three Rivers Union School District was formed. In 1928, a new building was constructed along State Highway 198 and all the local school districts merged into one.
In 1879, the name of Three Rivers was suggested by Louisa (Mrs. Lorenzo) Rockwell, and an application was filed for a post office. The community was so named for the North, South, and Middle forks of the Kaweah River, which converge nearby.
In 1886, the Kaweah Colony was established as a tent camp at Advance on the North Fork. The utopian socialists began to attract attention, both locally and nationwide, with the building of a road to access timber claims in the Giant Forest.
On May 17, 1890, an application for the Kaweah Post Office at Advance was granted. In 1910, the current 10-by-12-foot structure was constructed with a materials cost of about $15 and was moved several times to accommodate its patrons. In 1926, the post office was moved to its present location on North Fork Drive. On Oct. 24, 1948, it was designated a State Historic Landmark.
Having their sights set on Giant Forest timber that included giant sequoia trees, the Kaweah colonists inadvertently fueled a conservation movement that led to the establishment of Sequoia National Park (California's first national park and the nation's second) in September 1890. In 1892, internal strife and the failure to procure timber claims contributed to the demise of the Kaweah Colony. Many members packed up and left, but a few of the original colonists and their descendants stayed and settled in Three Rivers.
Travel and Tourism
After Congress established Sequoia National Park, Three Rivers began to cater to an increasing number of visitors to Giant Forest and Mineral King (which was not added to Sequoia National Park until 1978). In 1892, James Barton deeded the North Fork road right-of-way to Tulare County for one dollar, and it was extended to link with the Colony Mill Road, providing public access to the newly created national park.
In 1894, the Britten brothers built the two-story Three Rivers Lodge in the vicinity of the South Fork (later known as Old Three Rivers). In 1897, Noel and Nellie Britten opened the area's first general merchandise store in that same location.
In 1899, John Broder and Ralph Hopping opened Camp Sierra on the North Fork and guided visitors into the park on horseback. In 1900, they started the first stage line into Sequoia Park, which traveled to road's end at the old Colony Mill. From there, travelers would walk or ride horseback remaining six miles to Round Meadow in Giant Forest to stay at Broder and Hopping's camp.
In 1903, the federal government completed a road extension linking the eight-mile segment of Colony Mill Road with Giant Forest. This route remained the main entrance to Sequoia until the completion of State Highway 198 in 1923 and, after five years of construction, the opening of the 18-mile Generals Highway in 1926.
In 1935, the park-to-park highway opened, linking Sequoia National Park with General Grant National Park (which was enlarged and became Kings Canyon National Park in 1940). Also in 1935, the Three Rivers Airport opened, dedicated as Jefferson Davis Field. The one-runway airport closed to air traffic in 1970.
Vital Services
In September 1898, Mount Whitney Power and Electric Company began construction on a flume along the East Fork of the Kaweah River using redwood lumber from Atwell's Mill near Mineral King and built a hydroelectric power plant (located near the present-day junction of State Highway 198 and Mineral King Road).
On June 29, 1899, when the water first surged through Kaweah No. 1, transformed to energy, and was delivered to Visalia, it was called "an enterprise of mammoth proportions." On that day, electricity was transmitted a greater distance than had ever been accomplished before anywhere. Ironically, Three Rivers did not benefit immediately from this electrical engineering feat, although it was the settlement closest to the source of the hydroelectric power.
It wasn't until 1926, after a campaign by the Three Rivers Woman's Club, that community members had the luxury of electricity to light their homes, provide refrigeration, and irrigate their ranches. In 1905, Kaweah Powerhouse No. 2 (located on present-day Kaweah River Drive) was completed, and in 1913, Kaweah Powerhouse No. 3 (Ash Mountain) was built. Mount Whitney Power and Electric Company was acquired by Southern California Edison in 1917. In 1947, the original redwood flume was replaced with metal siding.
In 1904, the first telephone line was installed in Three Rivers. The "farmer's phone line" connected Three Rivers residents to each other and to the Valley a decade later. In 1909, Sequoia Hall was built, which became the community civic center. In 1910, Adam Bahwell donated land to the County of Tulare for the creation of the Three Rivers Cemetery.
On Dec. 23, 1955, a 100-year flood on the Kaweah River washed away homes and bridges and marooned many sections of Three Rivers. Downtown Visalia and hundreds of acres of agricultural land downstream also flooded. As a result, in 1962, Terminus Dam was constructed. Lake Kaweah, with a capacity of 150,000 acre-feet, was created to provide downstream flood control and storage for irrigation water supply, as well as recreation and hydropower. In 2004, 450-ton fusegates were installed, the largest in the world, to increase flood protection and storage capacity to 185,000 af.
In 1955, the County of Tulare built the South Fork Fire Station. In 1970, the Three Rivers Community Services District was formed. The government entity was created to monitor water quality and to oversee any other general services necessary for the safety and protection of the unincorporated foothills community of Three Rivers.