Humans naming the landscape
To pin a story on a piece of our landscape, to remember it, to give it meaning, humans tend to name it. Toponyms apply to topographic features defined as points (such as peaks), lines (such as trails and streams), and areas (such as meadows and lakes).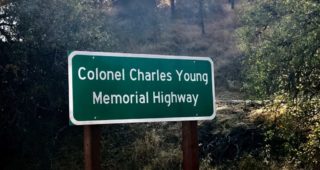 As a tribute to Colonel Young (1864-1922) a portion of Highway 198 is named the Colonel Charles Young Memorial Highway.
Read more